If your merchant chooses to keep their payouts in the form of cryptocurrency, you will need to have an eWallet to accept your commission. This guide will show you how to add eWallets to your Partner Account for cryptocurrency payouts.
*Note: Our platform is agnostic and can accept all external eWallets.
STEP 1
Log in to your Partner Account here: https://partners.net-cents.com/signin
STEP 2
Once you successfully log in, you will be brought to your account's dashboard. Navigate to the top right of the screen and click "Account".
STEP 3
After that, click the subheading "Crypto Wallets". Seen below:
This will bring you to your wallet page. Here you will see different areas to add your wallet information. Click the blue underlined text "External Wallet Address" as shown below:
STEP 4
Click "External Wallet Address". This will provide you with an area where you can input your eWallet address.
* Be sure to add the correct address for receiving cryptocurrency to your own wallet.
Remember to save any changes, and you're done!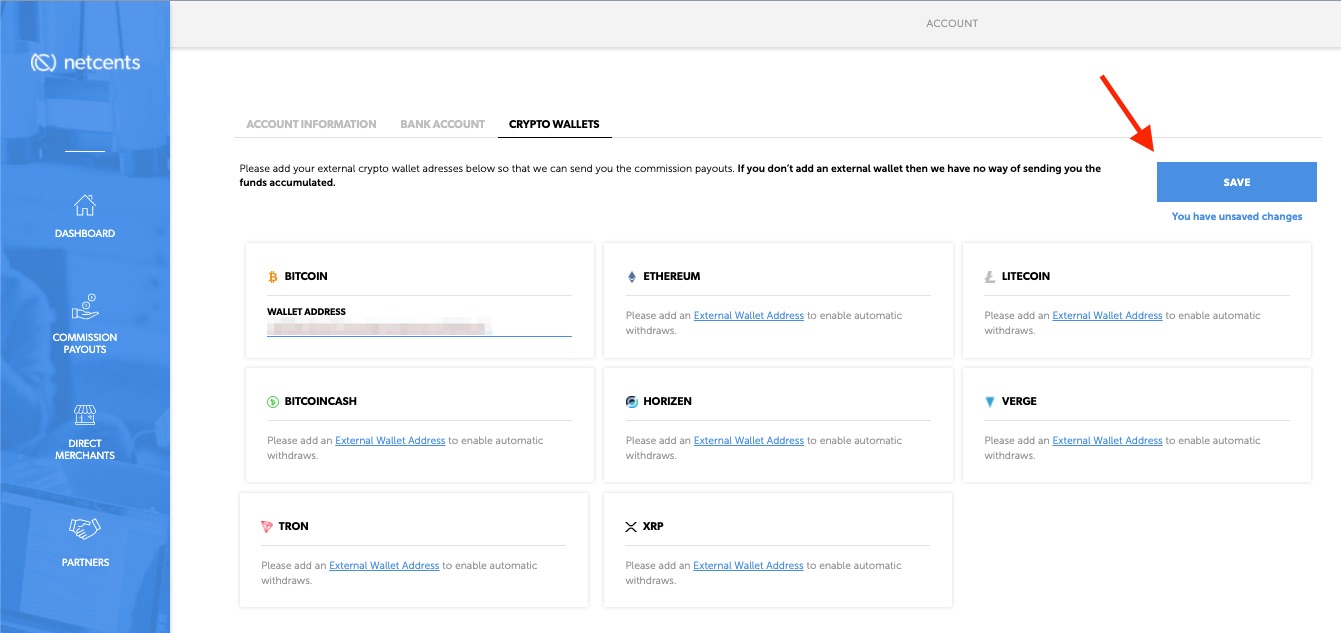 If you do not have an existing eWallet, you can follow this guide on How to sign up for a Personal eWallet Account.
*Please note: The following fees may apply when transferring cryptocurrency:
If you are having any technical difficulties or have any questions, please contact us at: partners@net-cents.com.