Downloading a report of your previously paid commissions is quick and simple. This guide will show you where and how to download this report.
For a list of all payouts previously received, simply go to: https://partners.net-cents.com/commission-payouts/paid. From here, simply follow these instructions.
Step 1
To find a downloadable list of your past payouts directly from your dashboard, log in to your Partner Account: partners.net-cents.com. From here, navigate to the blue bar on the left and click"Commission Payouts". You will be brought to your "Commission Due" page, from here simply click the button "Commission Paid", circled below: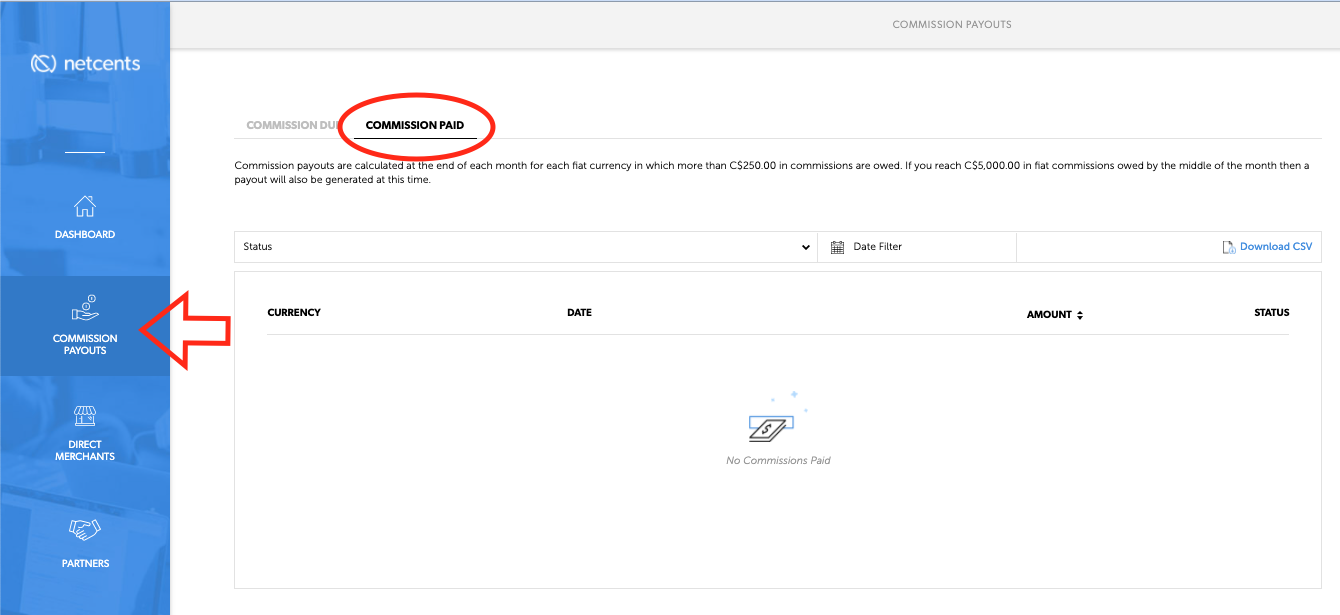 From here, you will be able to see all your previously paid commissions.
Step 2
To download a report of your commissions paid, simply click the "Download CSV", see image below:
This will download a report containing information such as total processing volume, the company associated with the commission, when this commission was created, etc.
What Is a CSV File, and How Do I Open It?
A Comma Separated Values (or CSV) file is a plain text file that contains a list of data.
You can try to open or import the file directly into your reporting software. While you can open a CSV file in any text editor, we recommend opening it in a Spreadsheet Program (for example, you could use Microsoft Excel or Google Sheets) to maximize organization.
If you are having any technical difficulties or have any questions, please contact us at: partners@net-cents.com.